Medieval cow shed found at Devon primary school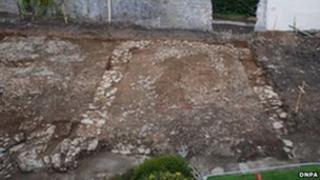 Remains of a medieval building have been found at a Devon primary school.
Dartmoor National Park Authority (DNPA) excavated the grounds of St Mary's Catholic Primary School, in Buckfast, before a new playground was built.
Remains thought to be part of Buckfast Abbey's outer court, a cow shed and medieval pottery were all found at the site.
The discoveries have been recorded and protected to enable the new playground to be built.
The large shippon, or cow shed, was found with mortared stone walls, a doorway and a small fireplace.
Archaeologist Stewart Brown said it was "a rare example" and was most likely used by the Cistercian monks before being used as a slaughterhouse until it collapsed or was demolished.
Planning regulations dictated that the excavation take place as the school is within the outer court of a 13th Century abbey.