West Exe College launches mobile phone and computer app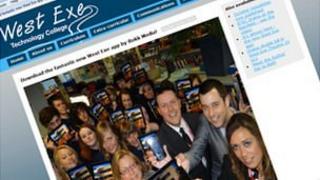 A Devon school has launched a mobile phone and computer tablet app.
West Exe Technical College in Exeter has developed the app with local company Rokk Media in a bid to help parents and students keep up to date with information and events.
School staff and developers added that they hoped it would be used as a two-way communication tool.
The app, which has taken a year to create, is available on both Apple and Android platforms.
'Whole new level'
Adam Stone - from Rokk Media, which has worked with the school on projects before - said the app was "a nice way for the school to put that information out there", as well as being "more accessible and instant".
He said: "Before this, they had been tied to access via a computer.
"If you go to the website, you have to fire up a cumbersome device beforehand.
"This is harnessing how we think the future of accessing information will unfold."
Acting head teacher Vicki Carah said text messaging had been used previously to send information to parents.
She said she believed the app would take communication to a "whole new level", replacing old-fashioned notes home to parents, and allowing people to communicate with the school using social media.
She said: "It enables us to use pictures, which texts didn't, and allows parents to see feedback about anything happening immediately.
"We also hope that families will be more involved in school life where they are able see what's going on a day-to-day basis.
"And they will be able to share in children's success sooner, rather than waiting for formal occasions such as teachers' meetings to be able to do that."