Dartmoor sheep farmer calls for speed limit reduction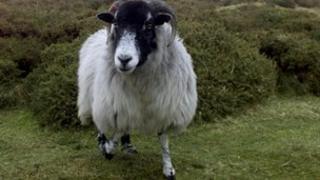 A sheep farmer on Dartmoor has said he is losing thousands of pounds worth of livestock because people are driving too fast and hitting his animals.
The limit on the stretch between Shaugh Prior and Lee Moor is currently 40mph, but farmer David Skelly from Wotter said he wanted it reduced to 30mph.
Mr Skelly said he was also worried for his own safety when he was working.
When Devon and Cornwall Police monitored speeds in the area, they said they caught one motorist doing 63mph.
'Very dangerous'
Mr Skelly said: "I've seen them doing 80mph past the farm gate.
"It's not just the sheep I am worried for - it's my safety, the children and the public.
"It's just got out of hand. It's very dangerous."
Mr Skelly said in the past five weeks he had lost 12 sheep. In the past year 45 sheep have been killed on the roads, he said.
PC Ian Baggot, from Devon and Cornwall Police, said: "The first vehicle that came past was doing 63mph. I stopped him and he was issued with a fixed penalty notice."
PC Baggot said he would report his findings, which he said could ultimately lead to the layout of the road being changed.
However, he added: "I don't think reducing the speed limit will slow people down.
"People aren't slowing down at 40mph, so why are they going to take any notice of 30mph?"