Plymouth care homes group halts legal action over fees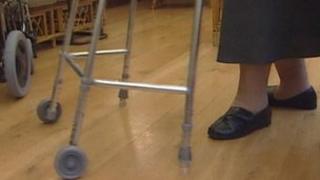 Care home owners in Plymouth have withdrawn a threat of legal action against the city council over how much they are paid to look after residents.
The Plymouth Care Providers Group, comprising 31 owners, threatened the action after rejecting an offer from Plymouth City Council to increase payments by 5.6%.
The group said members were underpaid by about £100 a week per person.
The council has pledged to continue negotiating.
There are 69 council-funded residential and nursing homes caring for about 800 people.
'Fair' offer
It is understood the total care bill is more than £20m.
Group spokesman Alan Beale said: "Although they talked to care providers, they didn't ask for any information about how much the provision of care actually costs.
"They don't seem to have an objective method for putting that information into a framework and calculating the actual cost."
The group said there was a wide gap between the actual cost of caring and the amount the local authority paid.
Despite withdrawing the legal threat, the 31 members said they still felt the council was not aware of the full costs of the services they provided.
But the authority said its previous 5.6% offer was fair, and that a number of other home operators were happy with the new rate.
But it said it would carry on with negotiations because members of the group were still concerned.