Plymouth Theatre Royal gets £5m Arts Council grant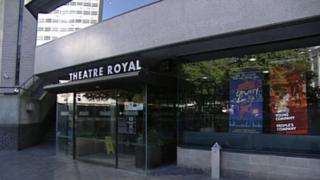 Plymouth's Theatre Royal has been promised £5m of funding from the Arts Council.
The money would go towards building a new auditorium and a makeover of inside and outside public areas, the theatre said.
The theatre will only be able to get the Arts Council money and carry out the redevelopment if it can raise a further £2m.
About £750,000 had been raised towards this target so far, managers said.
The planned refurbishment includes a new studio space in the basement, which would allow it to develop its city centre outreach work for young people and community groups.
Access to the building, which was completed in 1982, is also to be improved.
Planning permission for the regeneration project was granted by the city council in February.
The Theatre Royal attracts thousands of visitors to the city and contributes an estimated £26m to the economy.
It has the third highest economic impact of all 541 theatres in the UK - after the National Theatre in London and RSC in Stratford-Upon-Avon
The Arts Council said it was also the largest and best-attended regional theatre.
In September, theatre managers secured nearly £2m from the city council in a lump sum instead of three years of grants.