'Poachers' plunder Bigbury fish nursery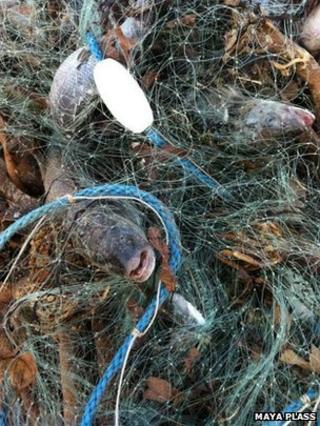 About 150 sea bass have been found caught in netting thought to have been laid by poachers at a fish nursery.
The find at Bantham beach, south Devon, on Wednesday is the third of its kind in the last six months.
Netting is banned under fishery by-laws at Bigbury Bay to protect stocks.
Local marine ecologist Maya Plass said she was convinced the netting came from poachers and called the deaths a "waste and a tragedy".
Ms Plass tweeted: "Disgusted to discover an illegal net on the beach put down in a nursery ground full of bass. This has got to stop."
She added the netting was a danger to surfers and divers who use the popular water sports area.
The discovery is being investigated by the Devon and Severn Inshore Fisheries and Conservation Authority which enforces the by-laws.
It said any evidence would be considered and a criminal prosecution could take place.
'Appalling situation'
Ryan Hooper, manager of the Evans Estates-owned Bantham beach, said: "I've seen well over 1,000 bass on the beach this summer, it is heartbreaking.
"It could be legal nets, but the fact that it was washed up on the beach suggests it was set close to shore which is in the nursery area and that is illegal.
"The entire Avon Estuary is very carefully nurtured, but when you see something like this you think 'why bother'."
John Coates, chairman of the Avon Estuary Forum, said the small size of the netting suggested that poachers were behind it.
He said: "It's an appalling situation.
"This has concerned us for months and a number of suspect boats have been reported."
Dr Stuart Watts, chairman of the Aune Conservation Association, said: "We don't know where it was laid, but I am horrified.
"There is a lot of work going on upstream to protect fish stocks, but it is being undermined by what is going on downstream."
Local MP Gary Streeter said he would be raising the discovery with the police and the Environment Agency.