Modbury raw sewage complaint after rain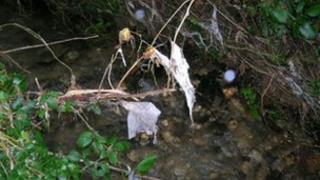 Raw sewage has remained on a footpath in a Devon town since the floods before Christmas, residents have said.
People living in Modbury said the discharge of sewage caused by floods in December had not been cleared.
Some residents said their dogs had been ill after walking along the path.
South West Water said the area was cleaned on Thursday and would be inspected again following more heavy rain.
Resident Joanna Owen said: "It's Third World, I could not believe what I was looking at."
'Under assault'
Community volunteer Brian Weeks said "This footpath is the most intensively used path in Modbury so it's important it gets cleared up."
A South West Water spokesperson said: "The extreme rainfall we have experienced across the region did trigger the operation of a combined sewer overflow at this location.
"By operating, these overflows protect hundreds of homes from the misery of sewage backing up through toilets and sinks when storm water overwhelms local sewers and drains."
MP for Devon South West Gary Streeter said the infrastructure was "under assault" and needed to be fixed.
He said: "This is an infrastructure which is creaking at the seams and we have got to see a stronger response from government and greater investment in this before we think about spending our money elsewhere."
South West Water said reducing the impact of storms on sewers and drains was not simple or without cost.