Otterton Mill reopens after November floods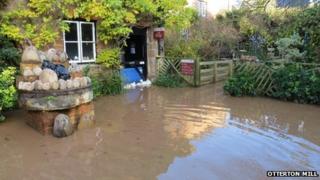 A tourist attraction which has been closed for almost two months following "catastrophic flooding" will reopen later, its owner has said.
Otterton Mill, in east Devon, was closed after water flooded the entire 1.5 acre site at the end of November.
Owner Simon Spiller said the total insurance claim was up to £130,000, with more than £25,000 worth of damage caused to the buildings.
He added that the water was 2ft (0.6m) deep on parts of the site.
Since 2008, Otterton Mill and the four main buildings have been flooded five times.
Mr Spiller said that on two occasions the buildings had been damaged, but the November floods were the worst.