JCK skipper's death 'devastates' Torquay fishing community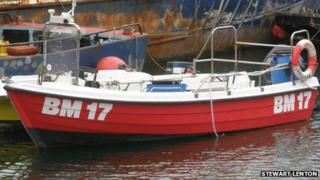 A Devon fishing community has said it is "totally devastated" by the death of one of its skippers.
The body of the skipper, who has not been named, was found off the Devon coast after a major air, sea and land search.
Debris from the 19ft (5.8m) JCK, which is thought to have been swamped in rough seas and gale-force winds, has been found.
Fishermen in Torquay said weather conditions on Monday were "horrendous".
'Well-respected skipper'
"It's really devastating - we're a very small fishing community here off Torquay," Maurice Martin, a friend of the dead skipper, told BBC News.
The JCK was last seen travelling past Thatcher's Rock, near Torquay, at 18:25 GMT on Monday.
When the Brixham-registered fishing boat failed to return to Torquay Harbour a major search, involving rescue helicopters from Portland MCA and RNAS Culdrose, RNLI lifeboats, coastguard rescue teams and two Royal Navy frigates, HMS Somerset and HMS St Albans, got under way.
The skipper's body was recovered by the Exmouth RNLI all-weather lifeboat shortly after midnight.
Jeremy Linn from Brixham Coastguard said it was likely the skipper's boat had been swamped.
"He had been fishing for the afternoon and was coming home with a catch on board, which means he obviously had quite a lot of weight in the boat," he said.
"It was not good weather - it was very windy, we'd had lots of rain and the sea state was rough - so it's a strong possibility that the boat was swamped in some way and sank."
Brixham Coastguard said debris of the JCK had been found "at various points off the coastline" and Devon and Cornwall Police said the skipper's next of kin had been informed.
Barry Young, Brixham Fish Market auctioneer, said the JCK's skipper was a "very good friend" and had been well respected within the fishing community.
"Unfortunately, tragedy hits the fishing industry once again, but at sad times like this we all pull together - within the industry in Brixham and throughout the South West," he said
"It'll be a sad loss and our feelings go out to his family."