Wind turbine collapses on Bradworthy farm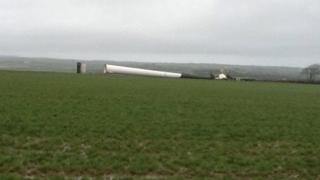 A 35m (115ft) high wind turbine has collapsed in strong winds on a north Devon farm.
Engineers are investigating the collapse at East Ash Farm, near Holsworthy, said Dulas Ltd, which erected the turbine in 2010.
The Wales-based firm said it was "working hard to establish the precise cause of the incident".
Police said no-one had been reported injured after the turbine collapsed on Saturday night.
The farm's owners declined to comment.
Sanjay Bowry, chief executive of Dulas, said: "Our technical team is one of the most experienced in the UK.
"They are working alongside the turbine manufacturer to conduct a full... investigation."