Brixham Coastguard closure raised with David Cameron by MP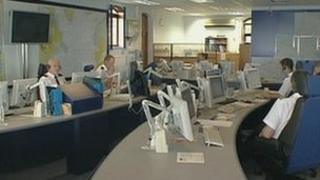 A Devon MP has urged Prime Minster David Cameron to prevent the closure of the county's only coastguard station.
The Department for Transport announced in 2011 that Brixham Coastguard coordination station would close by 2014.
Speaking in the Commons, Torbay Lib Dem MP Adrian Sanders told him the deaths of two men in two days proved how vital the station was.
Mr Cameron said the closure plans would not affect rescue cover.
Ministers plan to close 10 out of 18 UK round-the-clock coastguard centres, including Brixham, with only three expected to remain open 24 hours a day.
'Reassure fishermen'
The closure of Brixham's station will result in the loss of about 25 jobs.
It currently monitors an area including a section of the English Channel.
In 2010, it dealt with 1,300 incidents and co-ordinated the rescue of 300 people.
Speaking during Prime Minister's Questions, Mr Sanders said: "Two men have drowned in stormy seas off Torquay in separate incidents this week, despite the best efforts of lifeboat crews and the co-ordination of Brixham Coastguard.
"Can the Prime Minster reassure local fishermen, who pay a significant amounts of tax and duty on their catch, that if the coastguard station is closed, the risks they take will not increase?"
Mr Cameron said he proposed cuts would not affect rescue operations.
He said: "The government's examination of the coastguard hasn't been about reduction of the number of boats or active stations.
"It's about the coordination centres and where they're best located, and I think that's an important point to make."
Mr Sanders said that, while remembering the families of the two men lost, he was trying to highlight it was "the government's role to provide all the necessary support to the coastguard to allow them to do their jobs".
"The cuts to the service have caused concern and I will continue to do all I can to urge the Prime Minster to look again at his reforms," he said.