Bookmaker gunman dies after being 'held face down'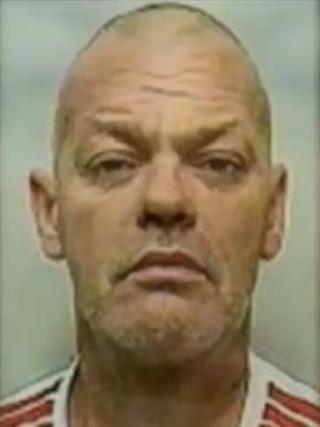 A gunman died after being "held face down" by four customers during an attempt to rob a booking shop, an inquest has been told.
Alan Levers, 50, entered Ladbrokes in Crownhill Road, Plymouth on Friday, wearing a gas mask and holding a suspected imitation pistol.
An inquest into his death heard a post-mortem examination had yet to establish a cause of death.
Police found him unconscious and he died minutes later.
Speaking at the inquest, Insp Steve Brownlow said the unemployed man was carrying an imitation pistol as he attempted to raid the shop.
Insp Brownlow said: "He was restrained and disarmed by three members of the public and was held face down on the floor."
Dead at the scene
He said police officers later handcuffed and arrested Levers while he was on the floor, but noticed he was not moving.
Police removed the mask and commenced CPR. Paramedics attended but he was pronounced dead at the scene, the inquest heard.
Coroner Ian Arrow adjourned the hearing to a later date.
The incident had been voluntarily referred to the police watchdog, the Independent Police Complaints Commission (IPCC), as officers from Devon and Cornwall Police had arrested Levers at the scene before his death was confirmed.
But a statement on the force website later read: "The IPCC has contacted Devon and Cornwall Police to say that having made an assessment, this matter should be subject to a local investigation."
A police spokesman confirmed this ended the IPCC's involvement, and that Devon and Cornwall Police's investigation into the circumstances of the death would continue as normal.