Blue badges seized after misuse in Plymouth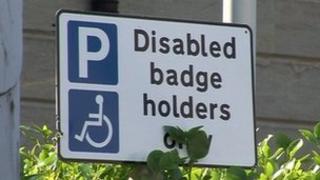 Ten blue badges have been seized in Plymouth for "improper use", including a driver who used a badge owned by someone who had recently died, an investigation has revealed.
About 500 cars parked in the city have been checked by Devon and Cornwall Police and the city council.
Some drivers have been found to use the badge of a friend or relative despite them not being in the vehicle.
The authority issues about 5,000 disabled parking badges each year.
Councillor Mark Coker, cabinet member for transport said: "We take fraudulent use of blue badges very seriously.
"Misuse of the badges deprives people with a genuine need of access to parking and limits their independence.
"We have a dedicated fraud team who work closely with the police and will prosecute blue badge misuse and fraud, it could mean at fine of up to £1,000 or a prison sentence."