Devon to get £35m flood defence schemes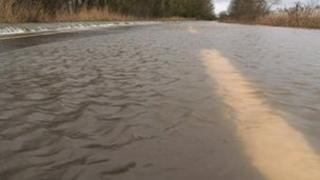 More than £35m is to be spent on flood defence schemes in Devon.
New £23m flood defences in Exeter would protect more than 2,000 homes and businesses, the government said.
A further £8.6m is to be spent on a beach management scheme for Dawlish Warren and Exmouth in a bid to reduce the flood risk to 2880 properties, plus protect the main national rail line.
Nearly £3.75m would also be spent on a Devon and Cornwall Floods Recovery 2012 project, the government added.
County 'hit hard'
The Devon projects are part of 93 new flood schemes announced for England.
Environment Minister Richard Benyon said the Devon schemes were a "big boost" and were being built because "the West Country has been hit incredibly hard over recent weeks".
The Department for Environment, Food and Rural Affairs (Defra) said added that new defences in Exeter would create more than 1,000 jobs and protect businesses employing 4,700 people.
Exeter Labour MP Ben Bradshaw said recent bad weather showed city flood defences needed improving.
He said: "There were a couple of noticeable near misses where the water was pretty much up to the current top of our flood defences.
"They have done a great job since the 1960s, but they do need upgrading."
Exeter County Council and Devon County Council are to contribute £3m each to the city scheme.
The government said the Dawlish and Exmouth scheme would "protect the railway line to the South West peninsula to secure the existing local economy and jobs".
Trains going along the main railway line at Dawlish are susceptible to delays or cancellations in very bad weather as they go along the town seafront.
Teignbridge District Council environment director John Cocker said: "It's a lot of money in anyone's language, but if the work isn't carried out, consequential [flood] damage in the [Teign] estuary could run into hundreds of millions.
"I think it's something the whole community will support."
The Devon and Cornwall Floods Recovery 2012 project had been designed to reduce flood risks to an additional 355 properties and numerous businesses in both counties, the government said.