Devon charity to track endangered macaque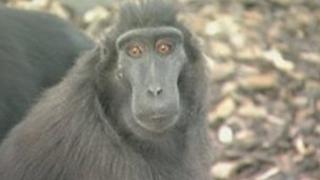 A Devon conservation charity is to visit a remote island in Indonesia to track an endangered monkey species.
The team, from the Whitley Wildlife Conservation Trust, will survey the Bacan Island, off the coast of Sulawesi, in Indonesia.
They will use GPS and laser technology to monitor the populations of Sulawesi crested black macaque.
The macaques are critically endangered, according to the IUCN Red List of Threatened Species.
The trust already has a project in Sulawesi called Selamatkan Yaki - the macaques are known locally as Yaki.
Habitat destruction
Andy Bowkett, the trust's overseas conservation officer, said: "It takes about 16 hours to get there. Bacan island is another five-hour local flight followed by an overnight boat.
"We will be there for two weeks, using GPS and laser range finder technology to survey the local macaque population."
The Sulawesi crested macaques are one of seven species of macaque on the Indonesian island which are found nowhere else in the world.
The wild population has declined due to habitat destruction.
Amy Plowman, the trust's head of field conservation and research, said: "We are keen to survey the remote island of Bacan which might harbour a significant but unstudied population."
The Whitley Wildlife Conservation Trust has recently been awarded a number of key grants and donations, including one from Chester Zoo to cover the cost of the expedition to discover how many of the Sulawesi crested black macaque currently live in the wild.
The team will leave later this week.