Night patrols off Devon's coast target marine crime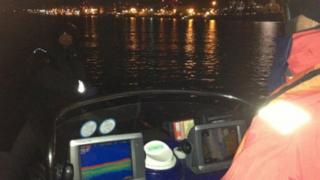 If you had asked me a week ago to take to the sea in a 40ft (12m) rib vessel off the Devon coast, at night, in freezing temperatures, with the wind whipping the water in my face, you can imagine what the answer might have been.
Never mind rollercoasters and theme park rides, the Environment Agency's (EA) Nimrod rib has a top speed of 45 knots (52 mph) and, in the dark, to someone with little experience at sea, it is a terrifying prospect.
But the agency's team are not there for the thrill of it. Neither is Sgt Ryan Canning, who during the weekend put together the largest organised operation in recent memory to catch criminals off Devon's coastline.
More than 40 people from Devon and Cornwall Police, the EA, the UK Border Agency, Inshore Fisheries Conservation Authorities and the Marine Management Organisation were involved in the patrols aimed at catching criminals.
Operation Moat, which targets illegal netting and marine crime, uses ribs, night vision and thermal imaging equiptment.
Sgt Canning said that illegal netting has a catastrophic impact on marine life, especially in nursery areas and estuaries where often undersized fish are taken or killed.
He said migratory fish are in dramatic decline and catching a 10lb (4.5kg) female salmon on her spawning run will destroy approximately 10,000 eggs.
As well as having a dramatic effect on fish stocks, it also impacts on tourism.
There are hotels that rely on fishing which may have a catch-and-release programme - but the fish need to be there in the first place.
Unlit boats
The operation involves land crews scouring the north and south Devon coast, police boats working out of Teignmouth and Salcombe, as well as ours in Plymouth.
Sgt Canning said: "We're looking for people illegally fishing by placing fixed nets across the mouths of Devon estuaries on an outgoing tide.
"Criminals can catch over £1,000 of fish in one night from unlit boats. They're painted black so they can't be seen."
I soon learned to hang on tight as we spotted a fishing vessel leaving the River Plym at speed.
When the engines were opened up, the rib roared into life and the flashing blue lights meant we soon caught our target.
After questioning it was evident the two men on board had been fishing legally and seemed pleased with the patrols being carried out.
Sgt Canning said: "It's people like that we're trying to protect, along with tourism, the ecology of our marine life - even the little kid who goes fishing off the jetty in the summer."
Our five hours out on the water took us along the River Yealm where there had recently been a spate of outboard motors going missing and nets being illegally set.
Even though our particular launch did not catch anyone red-handed, another team did apprehend someone who was a "significant interest" committing an illegal marine activity.
As I headed home in the early hours of Saturday morning after my night out on the water, I came to appreciate that Friday night policing in Devon means more than dealing with drink-fuelled disorder.