Torbay Council pays £2m per year on government loans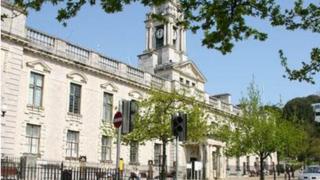 A Devon council is paying more than £2m a year in interest on loans for shelved projects, it has emerged.
Torbay Council borrowed £50m from the government between 2005 and 2011 to pay for projects such as a town hall redevelopment.
But spending on the town hall was scaled back in 2010, leaving the council with loans it cannot repay without a penalty.
Mayor Gordon Oliver said: "It's a problem I'm trying to sort out."
Conservative Mr Oliver, who became mayor in 2011, said in a statement: "As a result of previous policy and subsequent changes to approved spending plans and timing of expenditure, Torbay Council currently holds levels of borrowing matched by levels of investment which are higher than it currently requires."
He told BBC News that some of the loans could be used to pay for the new £20m Kingskerswell bypass.
"I want to make sure everyone is happy, including finance officers, that the money is being properly used and not being spent in a manner that would put us at risk," he said.
Mr Oliver said the outstanding loans were costing the council £2.35m a year.
Social housing call
He said he had asked the Treasury to accept the money back without a penalty, but had been refused.
HM Treasury confirmed the loans had been made to the authority through its Public Works Loan Board (PWLB).
A Treasury spokeswoman said PWLB loans to local authorities could be paid back, but would face a "premium" because the PWLB by statute was not allowed to make a loss.
The size of the bill that the Conservative-controlled council faced would depend on rates of interest.
Torbay Liberal Democrat MP Adrian Sanders said: "I would say invest it in social housing and build some work space units, the kind of thing which businesses are looking for and brings them an income stream."