Two Broadwoodkelly houses empty despite 1,000 on waiting list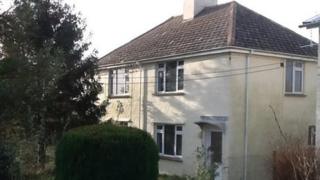 Two social housing properties may be sold off in Devon, despite more than 1,000 people on a waiting list for homes.
The three-bedroom houses have stood empty in Broadwoodkelly in West Devon for four and eight months respectively.
West Devon Homes (WDH), which manages the properties, said there was no housing need in the area.
Housing consultant Jane Filby said WDH had been "slow" and she was "surprised" tenants could not be found.
Jeremy Sanders, who lives in the village, said: "It's glorious rural countryside and we know there are a lot of people in need of housing and these are standing idle."
Emergency accommodation
West Devon Homes said it was considering whether to invest £60,000 into the properties to improve them or sell them off and use the money to re-invest elsewhere.
It added that despite more than 1,000 people on the waiting list and seven people in emergency accommodation, no one wanted them.
Chief executive, Howard Toplis, said: "There is pressing demand in Devon, but people don't seem to want properties in Broadwoodkelly.
"These are lovely houses and people would like to live here, but if you're on very low incomes and you want to get to the schools or to the local shops it costs a lot of money.
"I can accept perhaps we could have moved quicker on this one but it takes time to make the big decisions because the loss of affordable housing is a massive issue."
Miss Filby said: "They know the area, they have the waiting list, if there is no demand then they need to make the decision and sell.
"Social rented housing needs to be where people need it to be."