Devon and Cornwall need 600 new foster families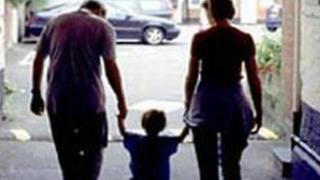 Hundreds of extra foster families are needed in the south west according to figures from the Fostering Network.
The network said there is "a record 5,450 children living with foster families" in the region, with many more coming in to care throughout the year.
The network said at least 600 new foster families would be needed in 2013 alone.
The new families are needed to replace the 13% of the fostering network who retire or leave every year.
'Recruitment campaign'
Robert Tapsfield, chief executive of the Fostering Network, said: "Despite fostering services attracting more people to become foster carers, the continuing rise of children coming into care means hundreds more are still needed in the south west this year alone.
"These children need a stable family life to help them grow and achieve their potential."
According to Devon County Council there are more than 700 children in care, and about 300 fostering households across the county.
A spokesperson for Plymouth City Council said: "We have an on-going recruitment campaign to ensure we continue to meet the demand for future placements.
"We are currently recruiting for all ages but are particularly seeking foster carers who would consider caring for teenagers."
Cornwall Council said there were more than 450 children and young people living with foster carers.