Man from Exeter awarded World War II medal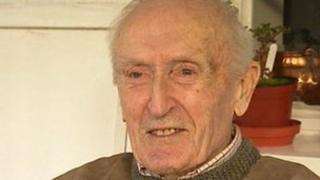 A 91-year-old war veteran has been awarded the World War II campaign medals he says he was always promised.
Richard Power, from Exeter, served with the Foreign Office's Political Intelligence Department and was with the 8th Army in the invasion of Italy.
Mr Power said he and 30 colleagues were told they should receive campaign medals.
His son, Eddie Power, said he was absolutely gobsmacked when the medal arrived in the post.
Mr Power, who lives in the Isle of Man, said: "A soaking wet parcel just dropped through the letter box.
"I opened it and there was the letter from the Ministry of Defence, and there was my father's Italy Star medal.
"I was absolutely gobsmacked, it was totally out of the blue, I am delighted, really delighted."
During his time in Italy Mr Power's job was to help broadcast propaganda bulletins to demoralise Italian and German troops.
Mr Power said after the war his unit's papers were sent to the War Office and effectively classified.
The British Foreign and Commonwealth Office (FOC) and the MP for East Devon Hugo Swire, looked into the case of the missing medal.
Eddie Power said: "It's been a long hard fight... This is the acknowledgment he has always wanted. He has never had the chance to wear his medal on Remembrance Day but now he can."