Positively Plymouth marketing brand ditched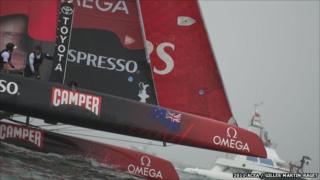 A £53,000 rebranding of Plymouth's image has been ditched by the city council, it has emerged.
The Positively Plymouth brand was launched in May 2010 to "galvanise" city people and it was used to promote the America's Cup in the city.
Positively Plymouth was predicted to have a "long term future" by its city council and government-funded creators.
But the council said brands "need to evolve" and Positively Plymouth was "never designed" for the long term.
The brand was created by the city council and government financed Plymouth City Development Company (CDC).
The CDC folded in August 2010 due to funding cuts and it handed responsibility to Destination Plymouth, a partnership between Plymouth City Council and city businesses.
'Patronising' brand
The CDC predicted a "long term future for the Positively Plymouth branding initiative" and in February 2011 Destination Plymouth announced "a flurry of activities" under the brand.
As well as the America's Cup, Positively Plymouth was used to promote the Marine City Festival in 2012.
Positively Plymouth's website was launched in March 2011 with the aim of acting "as a portal for inward investors" and "to show off what's great about Plymouth".
It is still mentioned on council newsletters, but the link to its website says "suspended".
The website hosting firm said the domain name had expired in July 2012 because its fees had not been renewed.
The city council said in a statement that Destination Plymouth now used the Visit Plymouth website to attract visitors.
It continued: "Brands need to evolve over time to remain fresh and current and much has happened over the last three years to provide Plymouth with a more powerful external narrative.
"Core messages and themes identified in the Positively Plymouth strategy will be retained and amplified in an updated approach."
The statement said the Positively Plymouth website "was never designed as a long term exercise, or as a key external marketing tool for the city".
According to a Freedom of Information request to Plymouth City Council in 2011, the cost of Positively Plymouth's "core branding work" was £53,250, which was met by the CDC before its closure.
Soon after the launch, it emerged that Plymouth, Wisconsin, also ran a Positively Plymouth campaign in the previous year.
Ash Mashhadi, from independent city website inplymouth.com, said: "I'm glad to see the end of the Positively Plymouth brand because it was really patronising.
"There's already a great well of talent in the city and enthusiasm for it and we don't need to be told that."