Christopher Ayre jailed for 'horror movie' glass attack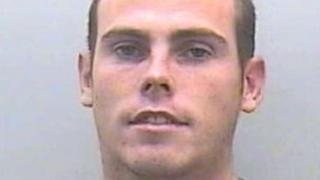 A man who threw a glass at his best friend's girlfriend causing her "horror movie" injuries has been jailed.
Christopher Ayre, 27, of Hawthorn Road, Exeter, admitted wounding Jody Richards when he threw a half pint glass at her in an argument over her boyfriend.
She suffered cuts to her mouth, cheek and nose which required 42 stitches "shattering" her self-confidence and making her feel unattractive.
At Exeter Crown Court Ayre was jailed for 15 months.
'Ugly incident'
The court heard Ayre threw the empty glass at Ms Richards while they were at the Flying Horse pub in September, during an argument over the amount for time he spent with her boyfriend.
Ayre said he hated her, she kicked his shins and threw a drink at him before he threw his glass in her face.
In a victim impact statement, read to the court, Ms Richards said: "Every time I look in the mirror I feel as if I have been in a horror movie."
She also said she had lost feeling around the injured areas and was traumatised by the scarring.
Recorder Mr Nicolas Gerasimidis said: "She feels unattractive, has no self confidence, has trouble sleeping and wakes up reliving the experience.
"This was an ugly incident which has left her scarred permanently and has other implications for her.
"You were 27 and should have known better. The fault lies in your hands."