Apology after man told to pay for London train trip twice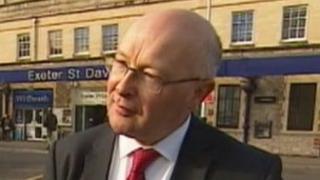 A train company has apologised after staff refused to let a passenger board a train for which he had a ticket.
Alan Connett had a ticket from Newton Abbot to London Paddington, but decided to board the train up the line at Exeter after his circumstances changed.
A First Great Western guard would not let him on, saying he had to buy a new ticket for the same train costing £144.
First Great Western said staff did not break any rules, but apologised, saying more discretion should have been shown.
'Mean-minded'
Mr Connett said he changed his travel plans, which he had bought his original advance ticket for, because his car had to go in for repairs and he was offered a lift to Exeter.
Although he was going from a different station, he said he was still intending to travel on the same service he was originally booked on.
He said: "I didn't see anything wrong with that, and I think most people would ask what was the problem for First Great Western. It seems a bit silly and mean-minded to me.
"No one was trying to defraud First Great Western out of anything.
"I don't see what the disadvantage is to First Great Western of someone trying to do what I did, for very good reasons."
Mr Connett did buy a second ticket.
Dan Paynes, from First Great Western, said staff did have to ensure tickets were valid for the actual journeys for which they were bought.
He said: "There are rules are about advance tickets. There are conditions attached, and we want to make sure that people follow those."
He added: "In the circumstances, I don't really understand why we didn't let him on.
"We apologise profusely and we'll be refunding him his money.
"We'll make sure that our colleagues know the rules and that they exercise them sensibly."