Whitehall independence city deal extended to Plymouth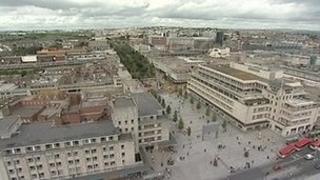 Plans to give Plymouth greater independence from Whitehall under a government scheme have been welcomed by the city council and business leaders.
Under the city deal, powers such as the setting and spending of some budgets are being devolved from government to councils to help growth.
The city council said it put Plymouth "in the front rank of major cities".
The council added it planned to use the powers to bring the South Yard at Devonport into public use.
'Sensitive' spending
The deal would see Plymouth as one of 28 areas in England seeing spending powers increased, the government said.
Deputy Prime Minister Nick Clegg said the move was part of a "major rebalancing" of the British economy to shift focus away from London and south-east England.
He said: "There can and must be more than one jewel in our crown."
The scheme has been criticised by Labour, with party vice-chairman Michael Dugher saying Mr Clegg had "broken promises" to the electorate, and that Mr Clegg and the Lib Dems "will be judged for what they do, not what they say".
However, the leader of Plymouth's Labour-led city council, Tudor Evans, said it was "fantastic news", as it meant the city would get "the assistance of the government itself to unlock deals".
He said: "It's about using what is currently spent in more sensitive ways in line with local priorities."
He added that the council's priorities included using the deal to develop marine technology, marine science and renewable energy.
Tim Jones, from the South West Local Enterprise Partnership, said the deal would allow Plymouth to "set a policy, not defined by just the term of a parliament, but a plan we can control the destiny of".
The city has nine months to draw up plans before ministers give the final go-ahead in November.