Devon amputee says prosthetic limbs will cost "£115,000"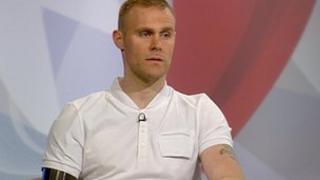 A severely injured former Royal Marine has said he may have to remortgage his home to pay £115,000 for replacement prosthetic limbs.
Triple amputee Mark Ormrod, from Plymouth, lost an arm and both legs in a landmine blast in Afghanistan.
He said he did not qualify for government funding for replacement limbs for military personnel and felt "let down and deflated".
The Ministry of Defence said supporting troops was a "top priority".
'Turning point'
He said the prosthetic limbs he needed were only available privately.
He said: "I think I was a little bit more let down than angry. I really thought this may have been the turning point. I feel deflated.
"It's going cost me £115,000. I will have to remortgage my house, or start a fundraising campaign."
Mr Ormrod said the government funding was not available to him as the money had been "ring fenced in the NHS".
He said: "You can't take that money for the treatment you need privately.
"I rely on my limbs everyday of my life. As an individual my circumstances need me to have a better level of care. There's just no funding for it."
The government is spending £6.5m for micro-processor limbs, known as "bionic legs".
They will be available to service personnel who have been wounded in Iraq or Afghanistan, and will offer them greater stability and mobility.
The Ministry of Defence said one of the government's top priorities "has always been to give our troops the best possible care and support".
It added: "That's why this government has made £6.5m available to guarantee that all serving and former members of our armed forces who have been injured while serving their country in Iraq or Afghanistan will have access to the latest prosthetics currently available on the market, where clinical conditions indicate that this is appropriate."