Axminster Carpets crisis talks continue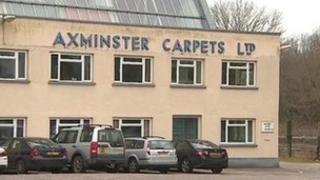 Talks are continuing about the future of Axminster Carpets in Devon, where about 400 jobs are at risk.
On Wednesday the company, which is one of Devon's biggest private employers, applied to go into administration.
The firm said "various rescue options are being looked into" and that it would continue to carrying on trading.
Axminster's mayor Andrew Moulding said he was "trying to find a solution" to the company's financial difficulties to ensure jobs stay in the town.
The luxury carpet maker, which can trace its beginnings back to 1755, employs about 400 staff at its plant in Axminster.
Mr Moulding, who is also deputy leader of East Devon District Council, said Axminster Carpets had been the "cornerstone of the town for many years" and the community "relied on the strength and viability" of the firm.
'Nobody panic'
Mr Moulding said he would "work with all concerned parties to try and find a solution to the company's financial difficulties as soon as possible".
Lorraine Gaskells, local officer for the Community trade union, said it would be a "heavy loss to the area" but it was important that "nobody panicked".
She said it was key to get the "local community behind Axminster" so any potential buyers would see a community that was "solidly behind the business".
The company filed notice of intention to appoint Benjamin Wiles, Geoff Bouchier and David Whitehouse of Duff & Phelps as joint administrators.
Company director Joshua Dutfield said: "We continue to be committed to working to achieve the best possible outcome for all concerned and most importantly the staff and suppliers."