Axminster Carpet employees urge support from residents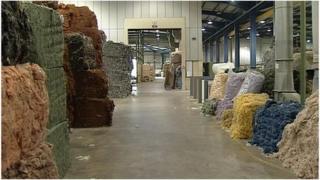 Employees at Axminster Carpets have taken to the streets of the town to urge local people to back a campaign to save the firm.
On Wednesday the company, which is one of Devon's biggest private employers, applied to go into administration.
About 400 people work for the carpet firm at its bases in East Devon and Buckfastleigh.
More than 100 workers met outside Axminster Guildhall to gather names and hand out leaflets.
'Various options'
The group then marched through the centre of the town.
Philip Stone, whose family has worked collectively for Axminster Carpets for more than 100 years, said he was "very disheartened" at the announcement and the potential prospect of losing his job.
"This is going to affect us and it's going to affect the whole town," he said.
A petition calling for the factory to be saved is to be handed to the Conservative MP for Tiverton and Honiton, Neil Parish, who has said he was "saddened" by the plight of the business.
The company filed notice of its intention to appoint Benjamin Wiles, Geoff Bouchier and David Whitehouse of Duff & Phelps as joint administrators.
But it said "various rescue options" were being looked at and it would continue trading.
Lorraine Gaskell from the Community union said the historic carpet company was "there to be saved".
"Everyone here really wants to keep this firm open and save it for the future - it's vital to the local economy," she told BBC News.