Plymouth City Council approves 2% tax rise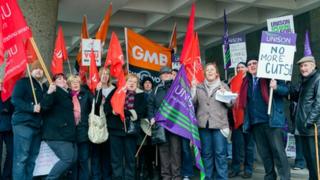 City councillors in Plymouth have agreed a 2% rise in council tax.
The Labour-run authority approved the rise and £18m of budget cuts, to £212.5m, for 2013/14.
The total rise, including police and fire service rises, means that householders in a Band D property will pay £1,507.86 in 2013/14.
The city authority said the rise was a "necessity" to maintain services, while Conservatives said the tax should have been frozen for another year.
Householders in Plymouth also face a 1.99% rise in the fire authority part of the council and a 2% rise in the police's part of the council tax.
'Drastic impact'
The report to the full council meeting said government grants for 2013/14 had been cut by £7.8m to £97.4m.
The report said: "We cannot escape the fact that the government's deep spending cuts will have a drastic impact on our council and the services we provide to local people and our support for the economy of the city.
"However, we are continuing to work towards maintaining and improving the services we provide to the people of Plymouth, in particular the most vulnerable adults and children."
Planned cuts under consultation include closing a dementia care home and some day care centres.
Beach hut and allotment charges are set to rise, and burial and cremation fees are being reviewed.
Councillor Mark Lowry, the Labour cabinet member responsible for finance, said: "The most sensible thing to do is recommend a modest council tax increase and to pay for some 300 services that the council provide on the citizens' behalf."
Councillor Ian Bowyer, the Conservative opposition finance spokesman, said: "My view as a Conservative is to leave money in people's pockets and let them decide how to spend it."
Ahead of the meeting at the Civic Centre, about 50 domiciliary workers and union members protested against plans to outsource a council-run care service.
The authority plans to outsource its reablement service, which provides temporary home care to help people regain their independence.
In the next three years the council has to save £3m from its adult social care budget.