Derriford Hospital radiotherapy mask aids cancer survival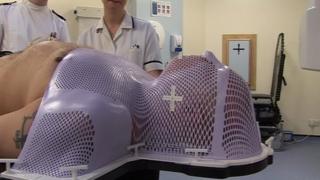 A mask being used in radiation treatment for head and neck cancers at the South West's biggest hospital is helping to improve survival rates.
One hundred patients have undergone radiotherapy treatment using the mask at Plymouth's Derriford Hospital.
By holding the patient's head completely still, radiographers can target tumours more precisely.
Dr Amy Roy, consultant clinical oncologist, said this has led to an 80 to 90% cure with some cancers.
The hospital is currently the only one in the South West using the hi-tech mask with radiation treatment known as volumetrically modulated arc therapy (VMAT).
Cancer rates 'tripled'
"You need to be very precise about where the radiation beams go," Dr Roy told BBC News.
"Particularly if you're treating the head and neck area, you need to be avoiding the base of the brain, the spinal cord, the eyes, mouth and the saliva glands."
The "precision" radiation also minimizes the damage to a patient's surrounding healthy tissue.
"It allows tissues not affected by the cancer to have a lower dose of radiotherapy, which will hopefully reduce the side effects," Dr Roy added.
To immobilise the patient, the mask is placed over the head and upper torso and then screwed to the treatment table.
Treatments initially took about 40 minutes when the mask was first used 18 months ago, but that has now been reduced to less than five minutes, meaning more patients are now being treated.
Dr Roy said the number of cases of tonsil cancer in young men has more than trebled in the past 20 years and more than doubled in young woman.
"Traditionally these head and neck cancers have been more common in people in their 70s," she said.
Experts have said many of the head and neck tumours they are seeing contain the human papilloma virus (HPV) which is more commonly associated with cervical cancer and, according to Cancer Research UK, can be passed on through kissing.
There are more than 100 strains of HPV, some of which can cause changes in the cells of the lining of the mouth and throat.