Axminster Carpets: Petition to save firm hits 6,000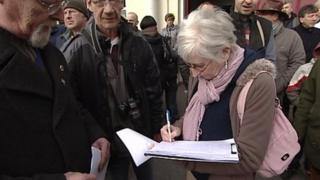 More than 6,000 people have signed a petition to save Axminster Carpets.
The company, one of Devon's biggest private employers, is looking for a rescue deal after applying to go into administration on 20 February.
The firm, which employs 400 people in Axminster and Buckfast, said it would make an announcement on its future by next Tuesday.
Workers have not been paid for two weeks.
'Ghost town' fear
Paul Kaxe, 56, who works at the factory with wife, Tracey, 44 and his two stepsons, said: "We are all still going in because that's how important our jobs are to us.
"We'll do anything to save our jobs because without Axminster Carpets the town will be a ghost town."
The petition, collected by workers and their families, will be presented to local Conservative MP Neil Parish.
A food bank for Axminster Carpets' workers and their families has been launched at the town's Tesco supermarket.
Administrators Duff & Phelps said Axminster Carpets continued to trade while "all available options" were being pursued by the company.