Axminster Carpets redundancies: Staff offered help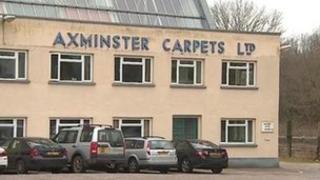 Staff at Axminster Carpets set to lose their jobs are being offered support.
About three-quarters of the luxury carpet firm's 400 staff in Axminster and Buckfast are to be made redundant, administrators said.
East Devon District Council said staff from its benefits team were to work with JobCentre Plus to ensure those affected received any help they needed.
And Teignbridge Council said it would assist those affected in Buckfast, where operations are to cease.
Difficult trading
The company, one of Devon's biggest private employers, went into administration on Tuesday.
About 100 employees are being retained, but carpet-making operations in Axminster are being scaled down and yarn production at Buckfast is to stop, administrators Duff and Phelps said.
Company bosses said the move "could not be avoided" due to difficult trading conditions.
East Devon Council said the Axminster Job Club and the Citizens Advice Bureau would also be involved in its efforts.
Council deputy leader Andrew Moulding, who is also Axminster's mayor, said: "We want to ensure people have access to all the professional advice and guidance that could save them money and help them get back into work at this difficult time."
Administrator Ben Wiles said work was continuing to come up with a rescue package to sell the business as a going concern.
He said the administration process would provide a "more streamlined business which, hopefully, somebody will take forward".
"We are hopeful that we will find a purchaser and are talking to a number of interested parties.
"The sole intention is to continue manufacturing carpets in Axminster."
The origins of the luxury carpet maker can be traced back to Thomas Whitty, who began making carpets and rugs in the town in 1755 using what became known as the Axminster method of weaving.
The first carpets were bought by the likes of King George III and Queen Charlotte, who visited the factory.
The Whitty family firm went out of business in the 1830s, but the tradition was revived in the town in 1937, when Harry Dutfield, the son of a Glasgow carpet designer, founded the current company.