Hospital 'back on black alert' after increase in admissions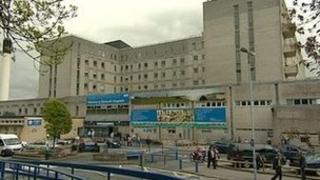 After a higher than expected number of emergency admissions, Plymouth's Derriford Hospital has gone back on 'black alert', meaning it is once again under extreme pressure.
The alert was initially called on Tuesday due to the high volume of accident and emergency patients and general admissions.
The hospital said it had been necessary to cancel some operations.
It said the demand on its services had been "unprecedented".
On Wednesday the hospital had stepped down to a 'red alert' after extra staff were called in.
A spokesperson said: "Our staff are working extremely hard to maintain high levels of care for our patients and we are being well supported by our colleagues in the local health community and the ambulance service.
"Regrettably it has been necessary to cancel some operations and we are sorry to those patients who have been affected by this unprecedented demand on our services."
It said it was monitoring the situation very closely and was continuing to work with colleagues in the wider healthcare community to try and reduce the pressure it was currently experiencing.