Exeter student music society aims to tackle tinnitus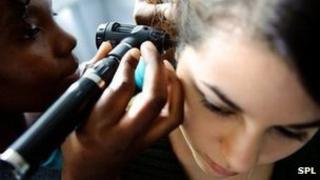 Club-goers in a Devon city have been given free ear plugs to highlight the dangers of exposure to loud music.
Exeter University's Beats and Bass Society said it wanted to reduce the risk of hearing problems, such as tinnitus.
The society's Sounds for Life campaign is using the slogan: "No-one wants to listen to the same song for the rest of their life".
The British Tinnitus Association (BTA) said it backed the campaign.
Will Newton, a fourth-year economics student and the society's treasurer, said the aim was to make young people realise how to minimise the damaging effects loud music can have on hearing.
Festival hearing loss
"We're a music society - we love music and we certainly don't want to put people off going to clubs, venues and festivals," the 22-year-old from London told BBC News.
"But loud music can and will damage your hearing unless you take steps to avoid it.
"Ear plugs are a fairly obvious way, but there are also other little things you can do like taking breaks and thinking about where you stand at venues."
Mr Newton said he was "completely oblivious" to the dangers until two years ago when he experienced temporary hearing loss after attending two music festivals in the space of a month.
'Mixed signals'
David Stockdale, chief executive of the BTA said: "Peer-to-peer education like this is a very effective way of getting messages across and we are happy to support the students at Exeter in any way we can."
Exposure to loud sounds is believed to be one of the causes of tinnitus - a condition most commonly associated with ringing in the ears.
It is a sound "heard" in one or both ears for which there is no external source. The ringing, buzzing, roaring, hissing or whistling is actually a misinterpretation by the brain of signals from the nerves in the ear.
The Beats and Bass Society said it was in discussion with some of the city's nightclub owners to persuade them to keep a supply of earplugs to hand out if people asked for them.