Councillor Graham Brown suspended over planning claims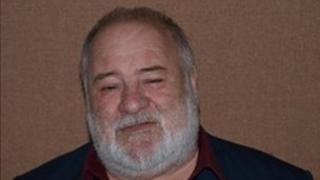 A councillor whose business as a planning consultant is being investigated has been suspended by his political party.
Councillor Graham Brown told an undercover reporter: "If I can't get planning, nobody will", adding that his services "don't come cheap".
East Devon Conservatives have removed Mr Brown from his post on the council.
Mr Brown claims his business is "completely separate" from his council work.
His business as a planning consultant is being investigated by East Devon District Council.
The councillor has been suspended from his party, as well as being removed from his post of Member Champion for Business and Tourism on the council by the ruling Conservative group.
Suspension 'appropriate'
The authority said it would look to see if Mr Brown's actions "fall within the rules of what we can investigate".
Mr Brown, the Conservative councillor for Feniton and Buckerell, was secretly filmed by the Daily Telegraph claiming he had "access to all the right people for the right clients".
"I don't come cheap. If I'm turning a green field into a housing estate and I'm earning the developer two or three millions, then I'm not doing it for peanuts - especially if I'm the difference between winning and losing it."
Councillor Paul Diviani, leader of the Conservative group on East Devon District Council, said: "I and other members feel that Councillor Brown has brought himself, the party and council in to disrepute with his comments, and even though his interest as a planning consultant has been declared this does not excuse the remarks he made.
"This was not conduct becoming of a Conservative Party member, and as such I think it is only appropriate to suspend Councillor Brown from the party."
'Quite open'
Mr Brown, who is is also chairman of the East Devon Business Forum, told the BBC: "I'm not on the planning committee, I don't try to influence councillors.
"It's a legitimate business that I run. I don't do anything that I would be ashamed of.
"I've been quite open about it. It's not a surprise to anyone because I've been doing it for years."
The council said in a statement that monitoring officer Denise Lyons would be working with the standards committee to see if the content of the Telegraph's report meant there needed to be an investigation into whether Mr Brown had broken any rules.
It said: "We are not aware of Councillor Brown having any improper influence on the planning process and he has declared his interest as a professional planning consultant.
"Councillor Brown does not sit on the committee which decides planning applications and there are no local or national rules which prevent him being a councillor because of his profession.
"Similarly, he is free to practise his profession whilst also being a councillor."