Barnstaple kidney patient Elena Lilley's fight for drug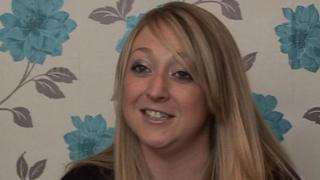 A Devon woman with a rare kidney disease is campaigning for a "life-changing" drug to be funded by the NHS.
Elena Lilley, 27, from Barnstaple, previously required hospital treatment three times a week for a rare kidney disease called atypical haemolytic uremic syndrome (aHUS).
She now has injections of Eculizumab once a fortnight and has been able to return to a full-time job.
The government will not approve funding until the drug is deemed affordable.
The cost of Eculizumab is £250,000 per patient, per year and health ministers have asked the National Institute for Health and Clinical Excellence (NICE) to decide whether the benefits justify the cost.
Mrs Lilley, who has received Eculizumab as part of a clinical trial for three years, said not only does she want to continue to get the drug, but she also wants other people to benefit.
The cost of her treatment is paid for by Alexion Pharmaceuticals, the drug's manufacturer.
"It sounds really corny to say - but it really is life changing," Ms Lilley said.
"When I was on plasma exchange, I was so tied to the hospital it was really hard to have a life."
Plasma exchange is a blood purification procedure to remove toxins from the body.
In 2010, when Mrs Lilley started the clinical trial, she had just 5% of kidney function and was on the point of needing dialysis.
Dr Richard D'Souza, consultant nephrologist at the Royal Devon and Exeter Hospital, described Eculizumab as a "magic bullet".
"It has really been proven to show dramatic improvement in both the condition of kidney function and quality of life," he said.
AHUS affects between 150 and 300 people in the country, but Dr D'Souza said a historic genetic defect means there are 20 people with the condition in Devon and another 18 known to carry the gene that can lead to it.
Rachel Bennett from Exeter, whose son Felix was diagnosed with aHUS at six months, said Eculizumab was "incredible" and had given him a normal childhood for the first time at the age of nearly four.
"He's had to travel to Bristol Children's Hospital three times a week... and all that time he wasn't experiencing normal things like going to a nursery or playing," she said.
'Rounded advice'
NHS Devon, which pays for healthcare in the county, said until NICE recommends the drug should be available on the NHS, it will consider requests on a "case-by-case" basis.
Alexion said the high cost of Eculizumab reflects 15 years of research, difficulty of manufacturing and the fact that few people will be prescribed it.
But Mrs Lilley said it was unfair to deny people treatment because of cost.
The independent Advisory Group for National Specialised Services (AGNSS) has recommended that Eculizumab should be prescribed on the NHS and while the Department of Health said it accepted its advice on the clinical effectiveness, it wanted "further, rounded advice" taking into account the cost, benefits and affordability of the drug.
In the meantime, Mrs Lilley is supporting an online petition set up on the government's e-petition website by the aHUS support group in the UK.