Mid Devon Council may end flood sandbag provision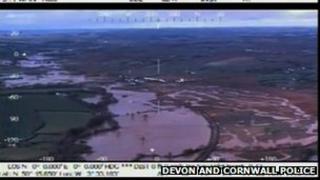 People at risk of flooding might not receive sandbags from a Devon authority after councillors voted to end the provision.
Last year about 4,500 sandbags were provided by Mid Devon Council.
If agreed by the cabinet, the authority will keep up to 250 bags for major incidents.
Paul Williams, head of environmental services, said the council could "not be responsible for everything" and it would discuss it with parish councils.
In November and again in December, dozens of homes were flooded in Devon after heavy rain.
Mr Williams said: "We [the authority] could not cope with the demand during the November incident."
Last year the sandbags cost about £19,000 in labour and transport costs and the materials totalled about £3,000.
'Owners' responsibility'
A spokesman for the Environment Agency said a few local authorities do provide sandbags and other emergency provisions to people immediately at risk, but the majority do not.
Mr Williams said it was about emergency planning rather than the authority providing sandbags.
He said: "We want to talk to parish councils about where they can have sand and where they can store bags.
"People don't expect us to repair things in their homes, the responsibility has to be put somewhere and that is with the owner of the property," he said.
A final decision will be made by the council's cabinet on 26 March.