Bribery investigation councillor Graham Brown resigns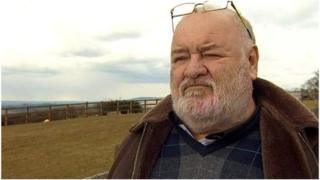 A councillor who was filmed claiming he could influence the planning process has resigned.
East Devon district councillor and planning consultant Graham Brown told an undercover reporter: "If I can't get planning, nobody will."
He said he had not broken the law and blamed his departure on media pressure.
Devon and Cornwall Police said he was being investigated for bribery after it had received a complaint from the local authority.
'Pressure to resign'
Conservative Mr Brown was secretly filmed by the Daily Telegraph claiming he had "access to all the right people for the right clients".
He was recorded as saying: "I don't come cheap. If I'm turning a green field into a housing estate and I'm earning the developer two or three millions, then I'm not doing it for peanuts - especially if I'm the difference between winning and losing it."
East Devon Conservatives suspended him from the party afterwards.
Mr Brown resigned his Feniton and Buckerell Ward seat with immediate effect, council chief executive Mark Williams said.
The council published a statement from Mr Brown accompanying his resignation, saying he apologised for his "disparaging remarks" and he decided to step down due to "unbearable media pressure".
Prior to quitting, Mr Brown said his consultancy business was "completely separate" from his council work and he did not try to influence councillors.
He said: "It's a legitimate business that I run. I don't do anything that I would be ashamed of.
"I've been quite open about it. It's not a surprise to anyone because I've been doing it for years."
Speaking to the BBC after resigning, he said: "I didn't realise the pressure I'd be under to resign.
"I'm very keen to clear my name. I've done nothing wrong and I defend my position, but I felt it was going to be unworkable with other councillors the way things had deteriorated."
Describing what happened when he was filmed, he said two young ladies had posed as clients saying they "represented wealthy overseas clients who wanted help".
Comments 'raised issues'
He said: "Basically, I think I was a bit over the top trying to represent my firm.
"I thought investment in east Devon from a foreign investor was a good thing, and now I regret some of the things I said."
The Conservative-led council confirmed it had referred Mr Brown's comments to the police under the Bribery Act 2010 and its own policy on fraud, theft and anti-corruption.
It said: "Although Graham Brown has not been a member of our planning committee, his comments still raised serious issues and we have responded to them quickly, firmly and fairly".
It added it would "cooperate fully and openly if the police decide to investigate".
Prior to Mr Brown's resignation, councillor Graham Godbeer, a senior member of the authority, said any wrongdoing "should be investigated properly".