Fifty-year-old 'made-to-measure' car sells for £7k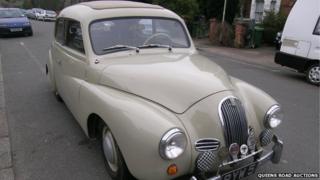 A 50-year-old "made-to-measure" car has sold at auction for £7,300.
The motor has a Fiat chassis, a Jaguar grill, its original engine and a body made by a Bavarian coachbuilder.
Built in 1954, the Fiat 1100 was made for a "petite" woman, who is now nearly 100-years-old and living in east Devon. She has not driven the car since she was fined for speeding in 2006.
The unique left-hand drive car was bought by a man in Somerset, who intends to put it back on the road.
It is understood the car's previous owner drove a variety of vehicles in Germany in the 1940s, when she was seconded to the US Army while serving in the British Army.
Auctioneer Carol Campbell said: "It's a complete one off - she wanted a Fiat car and she took them her design and said 'I want that'.
"We've got it running but it will need an MOT."