Exeter flood defence improvement works to start in 2014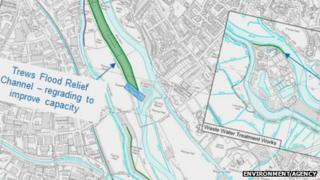 Work on improving flood defences in Exeter will start in 2014, the Environment Agency says.
Many of the city's current flood defences are about 50-years-old after being built in response to the River Exe bursting its banks in October 1960.
The agency said it planned to upgrade flood embankments and walls along much of the Exe.
Some current defence walls would be increased by a height of up to 5ft (1.5m), it said.
The Exe suffered major flooding in November and December.
More than 20 people had to leave their homes near the city during the December floods.
'Noticeable near misses'
Exeter City Labour MP Ben Bradshaw said the city saw "noticeable near misses where the water was pretty much up to the current top of our flood defences".
Rail links to and from South West England were also badly affected after flooding at Cowley Bridge.
The agency said the work meant the city could deal with a one-in-100-year flood, instead of the current one-in-40-year event its defences were designed for.
It said the first work would begin at Trews Weir, where it would dig a deeper and steeper channel to cope with any increased water flows.
Temporary barriers could be installed to protect Cowley Bridge, and there were also plans for defence walls to improve protection at Exeter St David's railway station, it said.