Devon couple switch off heating 'in protest' at rising prices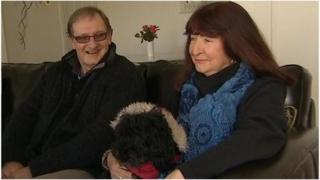 A Devon couple have switched their central heating off for the past year in what they say is a protest at energy price rises.
Retired Joanne and Jim Bell, from Yelland, near Barnstaple, cuddle up in extra layers of clothing and under blankets to keep warm.
Mrs Bell, 69, said: "Energy firms are making more and more profit and families are suffering."
Energy firms' association Energy UK declined to comment.
'Improved the house'
Mrs Bell said some families in north Devon earning low wages were suffering.
She said: "I heard on the radio about an elderly woman who had had her central heating off for three years. It was the incentive I needed.
"I am an old aged pensioner and my money only goes so far. I do not want to give money to billionaire energy companies.
"We are all suffering, so I thought we would make this stand because I can't afford it and I'm very cross."
She said she was "thoroughly enjoying" the experience.
"It's not as bad as people think," she said.
'Not for everybody'
"In fact, I think I'm healthier. I'm going out more, walking with my dogs, I'm doing a lot more physical work in my garden to keep warm.
"We have improved the house no end. Even my husband, who didn't want to do this in the beginning, is quite pleased that we shall have saved £800."
The couple have even eschewed turning on a small gas fire in their sitting room and they do not have an open fire.
Mrs Bell said: "It's not for everybody. If you have young children, sick people, elderly relatives and you feel you need the heating, keep it on low."
Mr Bell, 67, said: "We feel that taking a stand is well worthwhile.
"It's been a bit nippy, but put on a couple of jumpers and you're ok."