Torbay cafes refuse to pay increased outdoor tables fees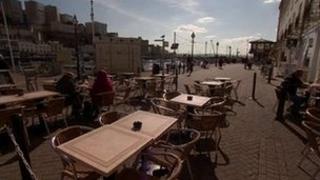 Cafe owners in south Devon threatened not to pay for annual licences for street tables after what they say are unfair increases of fees.
One trader said his 20 tables would get a licence fee increase from £540 to £4,000 - a rise of 640%.
Traders said they had not been consulted and the increase, due in April, would result in job losses.
Torbay Council said it had a duty to charge an appropriate fee, but added it would carry out an investigation.
'Can't afford it'
Brett Morton, of Torquay Harbour's Offshore Bar & Restaurant, said the fees of £4,000 he was facing for 20 tables were "higher than those in the centre Westminster".
Mac Javadi, of the Shiraz Restaurant, said: "I know the council needs money, but why should we suffer and people lose their jobs because we can't afford it?"
The move has also been criticised by Torquay town centre manager Rachel Weaver, who said such rises would affect the cafe culture the area had won awards for.
They include two Purple Flags from the Association for Town Centre Management. The awards are similar to Blue Flags for beaches.
Ms Weaver said: "If the tables are taken away, it would completely affect the flags as assessors were extremely impressed by our cafe culture."
A number of traders instructed a solicitor to tell the Conservative-led authority they would not pay until any increase was properly negotiated.
Robert Newman, of Kitsons Solicitors, said the council was responding to concerns, but only because "we delivered an ultimatum that we will not pay from 1 April".
The council said it has a duty to residents to charge an appropriate fee and such fees reflected market values.
However, safer communities portfolio holder Robert Excell added: "I understand that it is more expensive than elsewhere in the country. This is something we will now investigate.
"We'll do our homework and make a recommendation to the council so we can make it affordable."