Devon link road clear-up expected to net 800 bags of litter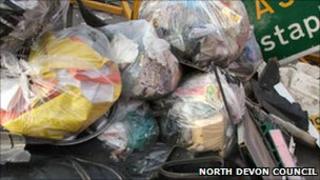 More than 800 bags of litter are expected to be collected during a clean-up of a 34-mile (55km) long Devon road, a council said.
The month-long operation is being carried out on the North Devon Link Road, the A361, between Bideford Bridge and Stonelands Cross, near Tiverton.
The council said it collected 815 bags in 2012.
Those littering face fines of up to £2,500 if caught, and fly-tippers face heavier penalties, the council added.
Council environment executive member councillor Rodney Cann urged people not to litter, and added it cost about £9,000 to clean up the road.
He said: "This is money that could be better spent elsewhere in these tough economic times."