Holsworthy to get new livestock market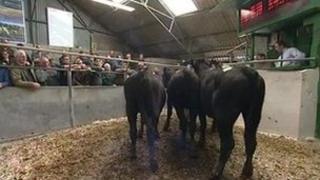 A new livestock market is to be built in the Devon town of Holsworthy, a council says.
Torridge District Council said the market and a new agricultural business centre would be the biggest project it had ever undertaken.
The market supports about 160 local jobs and generates £8.3m in the town.
The project is planned for a site to the north of the town. The current market would be redeveloped for homes and a supermarket, the council said.
Torridge Council said the project would work to ensure that Holsworthy "remains a sustainable market town in the future".
Barry Parsons, leader of the Conservative authority, said it would be a catalyst for growth in a town which already had a "high presence of banks, solicitors and accountants" because of the market.
At the moment, between 1,700 and 2,000 head of livestock are sold on market days, auctioneers said.
Kevin Hicks, from auctioneers Kivells, said the new market would help the town develop further.
He said: "It is essential Holsworthy's livestock status is perpetuated in the future, because I think that's what makes Holsworthy a viable venue for companies to position themselves.
"Should the market wane, I then think the town loses that status."