Cowley Bridge £30m railway works 'will not stop floods'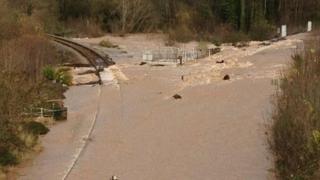 Works costing £30m to improve a railway line near Exeter connecting the South West to the rest of England are not to prevent flooding, Network Rail said.
In November and December, Cowley Bridge was submerged, causing several days of train delays and cancellations.
Track owner Network Rail said it planned to improve line resilience to allow flooding to be cleared and services resume as quickly as possible.
A full report on improvement proposals is due at the end of March.
Quicker service recovery
Mike Gallop, from Network Rail, said: "What we are looking at now is how we can improve network resilience between Taunton and Cowley Bridge.
"That's not prevention - we do not believe we can stop it flooding.
"Our proposition is that, once floods have subsided, we can start to recover services much quicker and more effectively than we did at Christmas.
"We're looking at improving tracks, improving embankments, and improving their draining.
"We're also looking at making the signalling system more robust by raising it, so it doesn't get damaged by water."
Network Rail confirmed its plans would cost about £30m. It said it still had to find funding and was to ask the government for help.
Campaign group Rail Future had suggested culverts at the bridge be increased to stop flooding on the line.
However, BBC South West Environment Correspondent Adrian Campbell confirmed the current improvements did not include looking at "an engineering solution that will deal with the [flooding] problem".
He said: "There has been talk about siphoning off water further upstream, but that would be an ambitious project, and something that would not be talked about until much further into the future.
"It could cost millions, or tens of millions, of pounds more."
Network Rail said it was working with the Environment Agency and the government on the situation and a report would give its findings at the end of March.