10,000 receive NHS dental treatment from students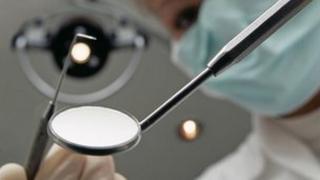 More than 10,000 people in Devon and Cornwall have received NHS dental treatment in the last five years from students at Plymouth University.
The students studying at the Peninsula Schools of Medicine and Dentistry (PCMD) provide the service under the supervision of qualified dentists.
The Peninsula Dental School opened its doors to its first students in 2007.
Patient John Hart said he "doesn't mind being a guinea pig" as the treatment he has received is "first rate".
Prof Christopher Tredwin, Head of PCMD, said patients get "routine, high quality, fantastic dental care".
Bridget Sampson, director of Primary Care for NHS Cornwall and Isles of Scilly, said the facility had been a "positive contribution to dental care in the region".
Ms Sampson said: "We supported the creation of the dental school as we recognised the benefits of training people locally in the hope they may decide to remain in Cornwall to practice."
Patient, John Hart said the facility was "absolutely brilliant".
"Dentists these days are very expensive and this isn't costing me anything," he said.