Keith Dance death: IPCC investigates prior police contact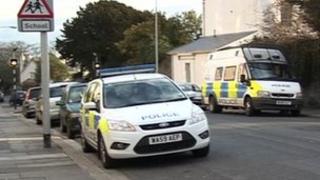 Contact police had with a Plymouth man before he was found dead is being investigated by the police watchdog.
The body of Keith Dance was discovered in a house in Molesworth Road in the Stoke area of the city on 12 March.
A man and a woman have been charged with his murder and will appear at crown court later this month.
The death of 33-year-old Mr Dance was referred voluntarily to the Independent Police Complaints Commission by Devon and Cornwall Police.
The IPCC said it would investigate police contact prior to the death of Mr Dance and his family would be kept "regularly informed of its progress".
"There is a criminal investigation being carried out by the police service and two people have been charged with Mr Dance's murder," Commissioner Rachel Cerfontyne said.
"The police investigation will take priority and we will make arrangements to share relevant evidence for the two separate investigations."