Plymouth resident finds corn snake in wall cavity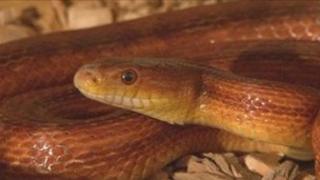 A 6ft (1.8m) long snake has been retrieved from a cavity in a bathroom wall.
Firefighters found the owner holding onto the end of the corn snake at the flat in Colin Campbell Court, in Plymouth.
The crew from Devon and Somerset Fire and Rescue Service removed wall panels to retrieve the reptile.
The corn snake, which is a North American species that constricts small prey, was returned unharmed.
Firefighters were called to the flat at about 00:35 GMT after the owner's partner called the fire service for assistance.