Plymouth University's Chinese student work recognised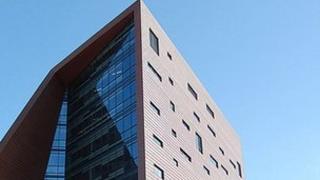 A university in Devon has received an award from one of China's financial institutions.
Plymouth University has been named as a winner of the Bank of China University Award, recognising its work with its community of Chinese students.
The award also acknowledges the research collaborations between the Plymouth and Chinese universities.
There are currently 500 Chinese students studying at Plymouth University.
They are studying courses ranging from business and finance to digital arts and sciences. The University also has 30 Chinese staff.
It hosts a three-day festival in February to celebrate the Chinese New Year.
Professor Simon Payne, the Dean of Academic Partnerships at the university, said: "Plymouth University is pursuing a range of projects connecting us with China.
"We are finding new ways for UK students to experience China and work with students there, as well as giving Chinese students experience of the UK. "