Plymouth's 'first' WWII bomb site discovered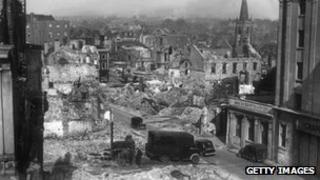 More than 70 years after Plymouth was bombed during WWII, the "first" bombing site has been rediscovered, a building company has said.
The bomb crater was unearthed by workers building new houses.
In the 59 bombing raids that flattened Plymouth during World War II more than 1,000 high explosives fell on the city.
The first three fell one afternoon in July 1940 on the residential area of Swilly now known as North Prospect.
The crater was found on the site of a £168m, 10-year-long regeneration project for the area by Plymouth Community Homes (PCH).
James Savage from PCH said: "It's interesting because it forms the link between the past and future of North Prospect.
"The site is perfectly safe. Everything has been checked."
The three bombs destroyed eight houses on an estate that was called Corporation Housing in Swilly.
Blanch Ellnor, 33, of Swilly, was Plymouth's first air-raid fatality.
During the Plymouth blitz attacks, about 1,200 civilians were killed and thousands were injured.
Numerous unexploded bombs have since been discovered and detonated.