Joss Stone accused 'like a goldfish in a bowl'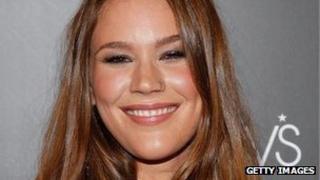 One of the men accused of plotting to kill Joss Stone is "like a goldfish in a bowl", Exeter Crown Court heard.
Junior Bradshaw, 32, of Longsight, Manchester, suffers from a mental illness which causes him to have incoherent thoughts, the jury heard.
A psychiatrist said Mr Bradshaw thinks the alleged plot only happened two or three months ago, instead of 2011.
Mr Bradshaw and a second man deny plotting to kill, injure and rob the singer at her Devon home.
Consultant psychiatrist Dr Michael Alcock, who interviewed Mr Bradshaw, said: "He is not fazed by the fact he has been locked up for so long.
"In a sense his mental illness and learning difficulties are protecting him.
"If you ask him, he says it feels like two or three months. Each day is the same to him. He is like a goldfish in a bowl. It doesn't bother him."
Dr Alcock said Mr Bradshaw suffers from a condition called hebephrenic (disorganised) schizophrenia.
He said the drug Respiridone alleviates the symptoms but the condition deteriorates when Mr Bradshaw stops taking it, as he did in 2011.
The prosecution alleges Mr Bradshaw and Kevin Liverpool, 35, both of St Stephen's Close, Longsight, Manchester, planned to attack Miss Stone at her home at Rull, Ashill, near Uffculme in East Devon.
It is alleged that written notes showed they wanted to behead the singer using a Samurai sword because of her links to the Royal Family, including attending the wedding of Prince William and Catherine Middleton.
The prosecution told the court the men had scouted her home and were on their way to attack her armed with the sword, three knives, two hammers, masks, gloves, hosepipe and a makeshift body bag, when they were arrested in Cullompton, Devon.
Mr Liverpool has chosen not to give evidence and none has been called on his behalf. Dr Alcock was called by Mr Bradshaw's defence team.
The trial continues.